Buying property in Spain after Brexit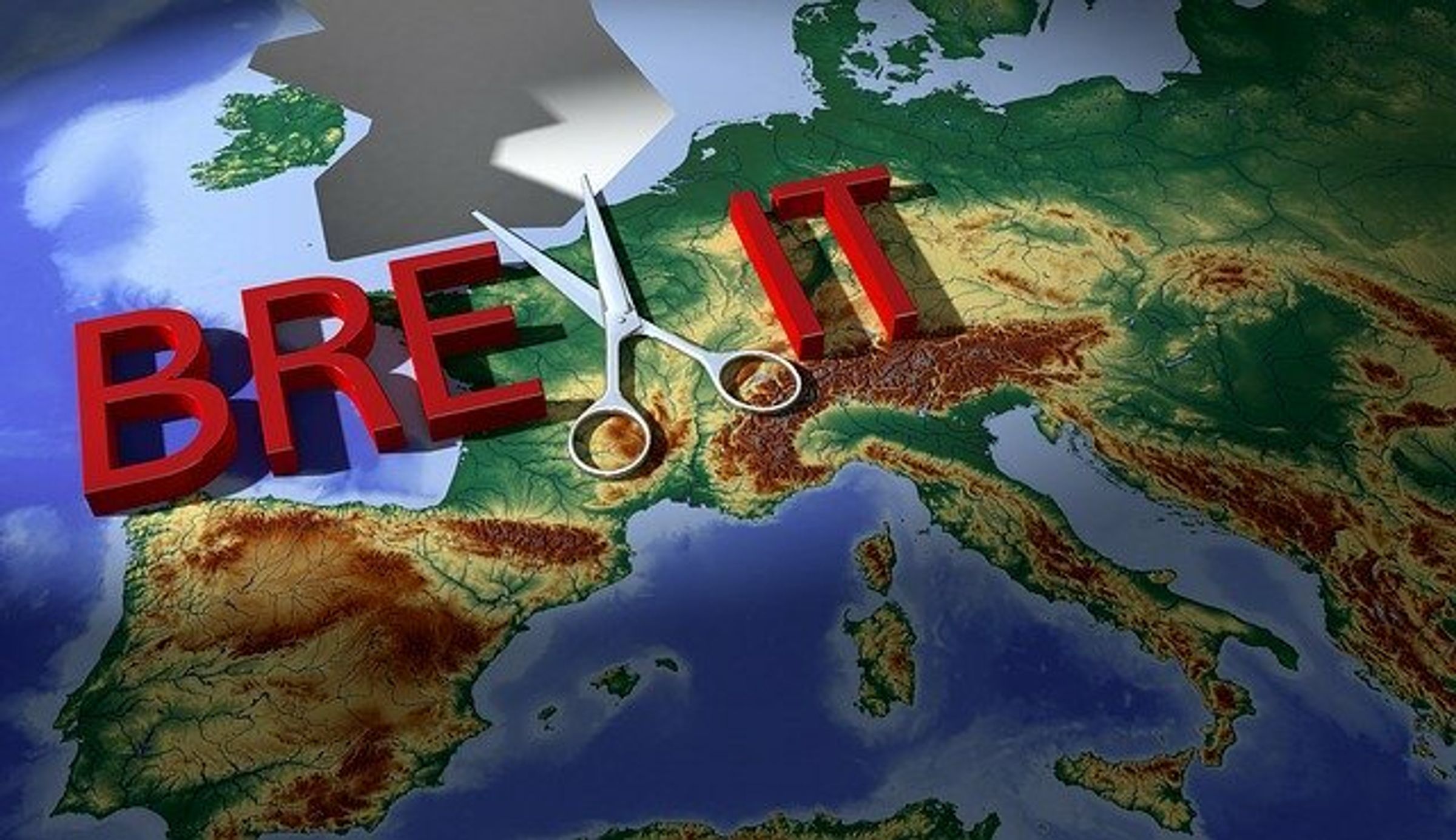 Buying property in Spain after Brexit is something that is keeping all of us thinking.. Questions like, should I buy property in Spain after Brexit? Is it safe? Is it wise?
Will you be able to rent it out? The prices of property after Brexit, will they go up? Even healthcare, pensions, work, or living in Spain. All that and much more in our curated article.
Quick inforgraphic, full in depth article below the infographic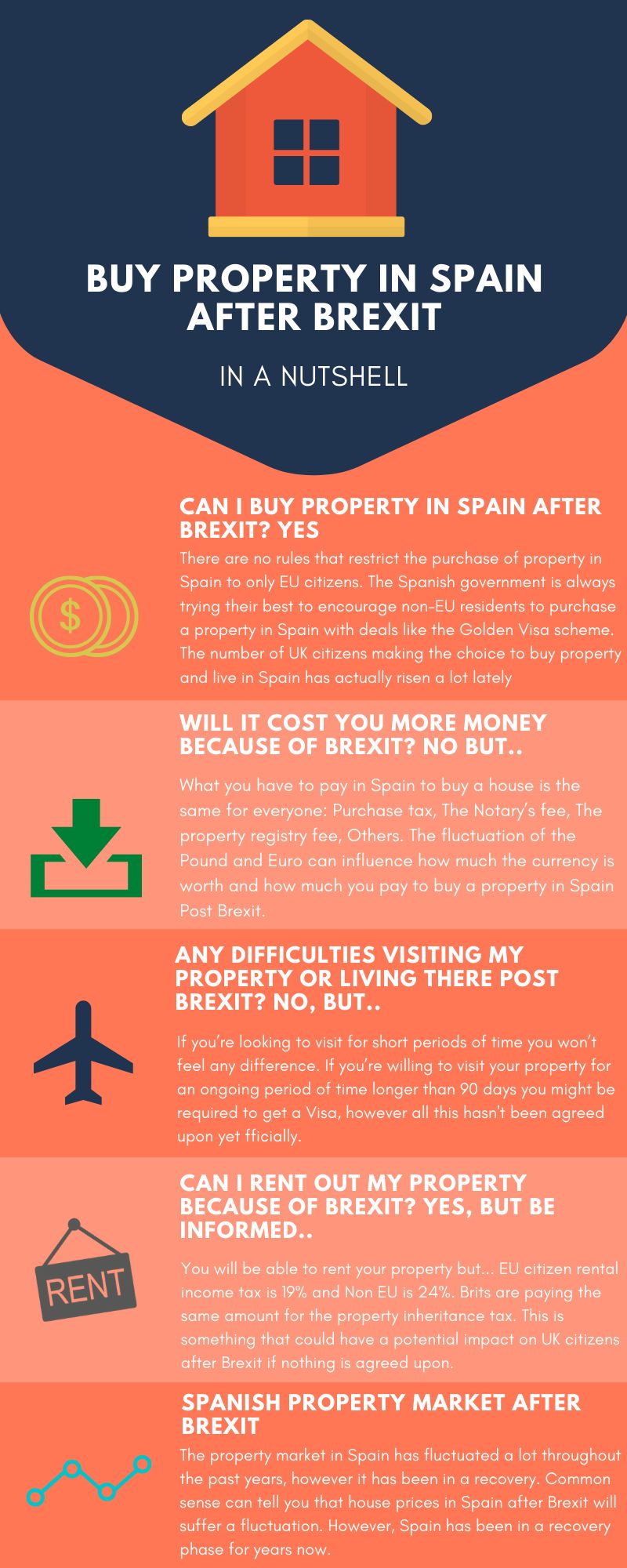 Can I buy property in Spain after Brexit? YES
There are no rules that restrict the purchase of property in Spain to only EU citizens. This is a point to make clear straight away as the uncertainty can lead to misinformation and concern. In Spain, if you can pay the purchase price you can own the property.
Throughout the years, citizens from outside the EU borders like Norway or America have been buying property in Spain without any issue, and the fact that Britain will exit the EU will not change this rule, nor there will be a specific rule pointing out UK citizens.
Not only you are absolutely able to buy a house in Spain, but the Spanish government is always trying their best to encourage non-EU residents to purchase a property in Spain with deals like the Golden Visa scheme. Think about it, Spain benefits enormously from outsiders buying property and living in there, even after Brexit.
Also, there are signals that the Spanish construction sector has started to rise and is moving once again.
The number of UK citizens making the choice to buy property and live in Spain has actually risen a lot lately, due specifically to Brexit. So, should I buy a property in Spain after Brexit? Continue reading and if you are interested check our properties below.
2 Bedrooms
2 Bathrooms
110 m2 build

3 Bedrooms
3 Bathrooms
180 m2 build
803 m2 plot
Will it cost you more money because of Brexit? NO but..
No. Like the first point, your nationality or citizenship will not have an impact on the price you pay for a property. Whether you're an EU citizen or not, you will pay the same amount for the property.
The payment you have to do in Spain to buy a house is the same for everyone:
Purchase tax
The Notary's fee
The property registry fee
Some small miscellaneous expenses
Regarding the notary fees, to buy a property in the UK you simply exchange the property contracts, pay the vendor and the property belongs to you, is a simple procedure. Following this you add your title to the property in the land register.
However, in Spain, you need a notary to witness this procedure so you can add your title to the property's register. The fee you pay to the notary is controlled by the Spanish government and is based on the number of clauses in the property deeds and the declared value of the property. We analyze here how reliable a Spanish notary is.
Finally, the fluctuation of the Pound and Euro is constant and can influence how much the currency is worth and how much you pay to buy a property in Spain, especially with the consequences of the Brexit deal. This is something to have in mind when you're thinking of buying a property in Spain post Brexit.
Regarding the issues of Brexit, whether you are a resident or non resident you have to be aware of the Property Taxes in Spain regarding the purchase, sale or ownership of your property.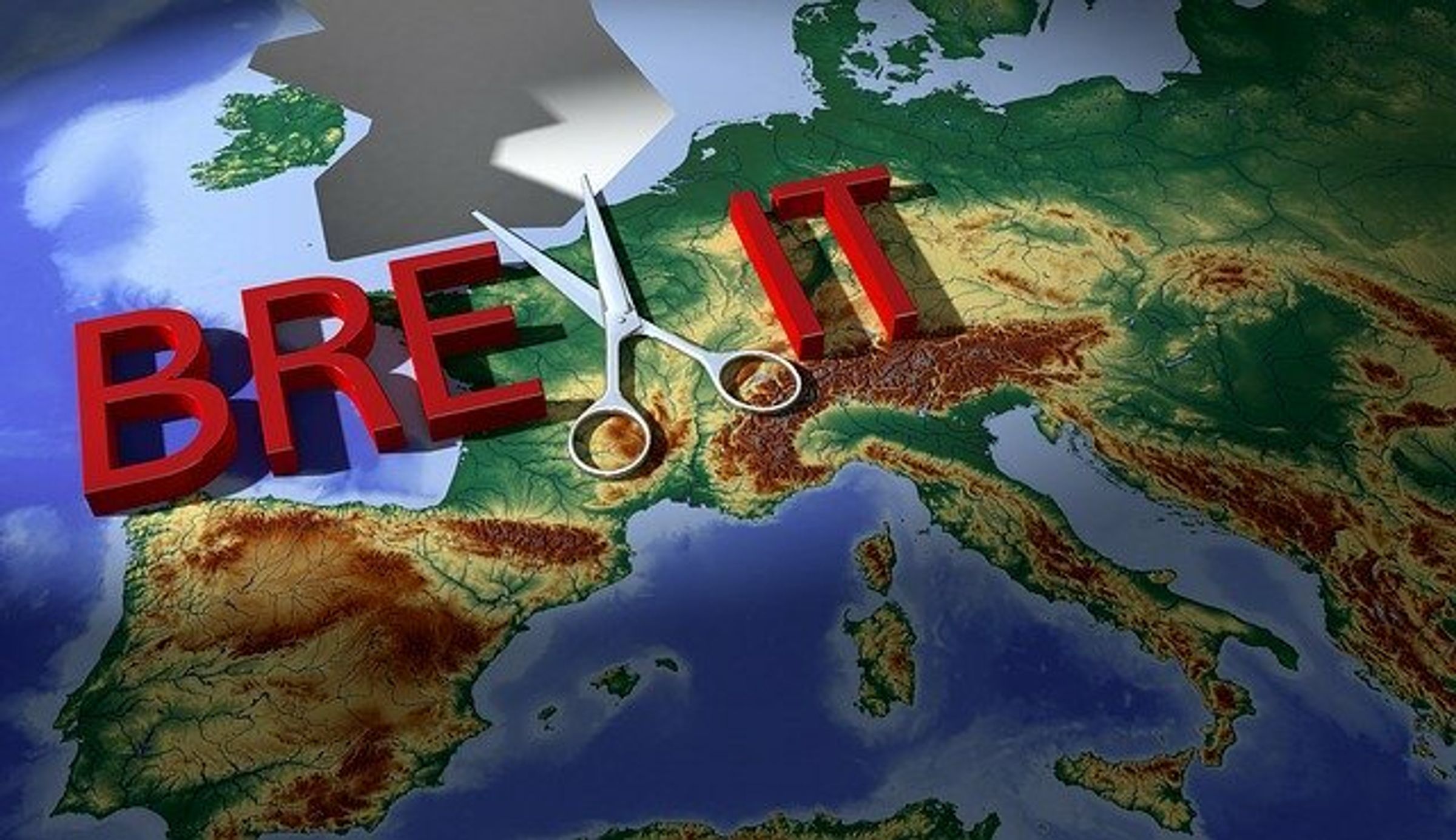 Will there be any difficulties visiting my property or living there because of brexit? NO, but it isn't 100% clear..
There are two sides to this question.
If you're buying a property in Spain after Brexit and you're looking to visit for short periods of time you won't feel any difference.
It is uncertain at the moment, but if you're willing to visit your property for an ongoing period of time longer than 90 days you might be required to get a Visa. This isn't as daunting as it sounds and it will only require a small payment at the airport. However, this isn't something that has been agreed upon yet.
Tourism is still one of the most important industries in Spain and the UK is the biggest source of this, as 18 million Brits visit Spain every year. With this said, it is likely that the Spanish government does their best to keep this flow going, meaning they will make it as easy as possible for UK citizens to buy, visit or stay in Spain. Is to everyone's good.
Finally, the biggest uncertainty is whether you can move to Spain in your brand new property or not. The reason for this is because there hasn't been an agreement in this matter, or all the other matters like working in Spain, healthcare, pensions and any other basic requirement to live in a country. We will have to wait for negotiations to resume so we can know more about this matter.
Do you like our article? Share it with your friends in the link on the top of our page.
Can I rent out my property because of Brexit? YES, but be informed..
You will be able to rent your property without an issue but there could be a catch.
As a Spanish or EU citizen the rental income tax is 19%, therefore Brits pay this percentage at the moment. However, for non-EU citizens the rental income tax is 24%, meaning there are different rules in this matter whether you're a European citizen or not.
Moreover, Brits are paying the same amount for the known property inheritance tax.
Brexit could have an impact on these two sides, if it isn't agreed, UK citizens could pay the same rental income tax as non-EU residents and be charged for the property inheritance tax at a higher rate. This is something that is keeping everyone awake and could have a potential impact on UK citizens after Brexit.
In terms of the process to rent the actual property legally in Spain it will be the same.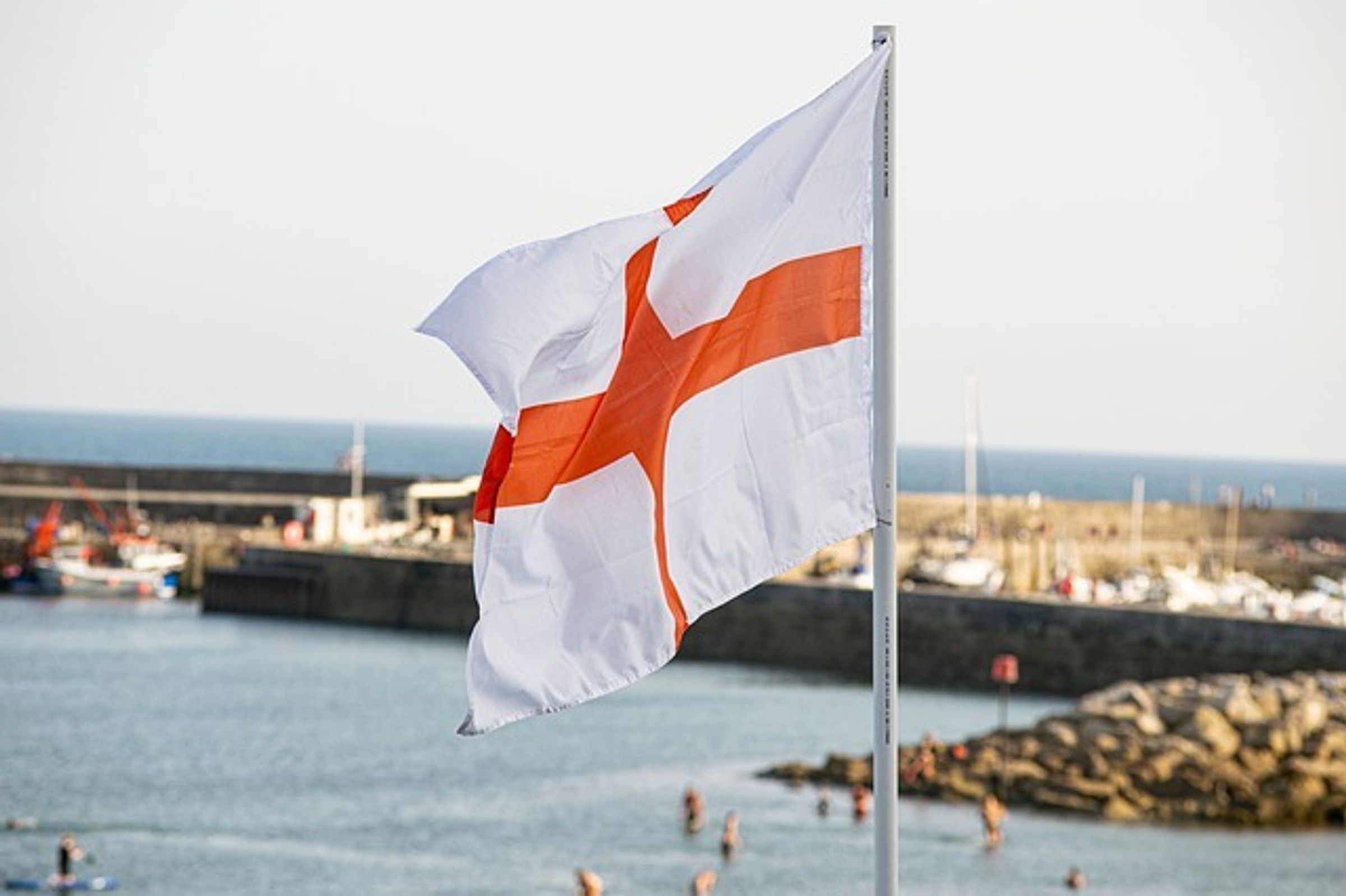 Spanish Property Market after Brexit
The property market in Spain has fluctuated a lot throughout the past years, however it has been in a recovery phase since its devastating 30% fall between 2008 and 2014. At the moment, buying Spanish property is a good investment.
So, is it wise to buy property in Spain after Brexit? Well, at the beginning of this year 2019, the average property price in Spain has risen up to 6%, making it even a better choice in terms of buying a reselling the property. At this moment, more into 2019 and going into 2020, the housing market price has relaxed and it has hit a steady point, making it a 'sustainable' investment.

Having said this, common sense can tell you that house prices in Spain after Brexit will suffer a fluctuation, as big occurrences like this always have an impact on the property market, financial market, currency and more.
Want to know if the Spanish Property Market will rise in 2020?
OFFICIAL information on healthcare, pension, work in Spain and more
This matters are absolutely crucial to make a choice whether to buy a property in Spain after brexit or not. This is because these are basic factors in an everyday life and there should be taken into consideration heavily.
I will leave this article here from the Spanish Government (La Moncloa) explaining each particular issue and many others, in the hypothetical case there is an agreement or not after Brexit.
Thinking of buying a property in Spain after Brexit? Do you prefer nice apartments.. Or maybe a big villa. Check out all our houses in Spain